The New England gemfields centred around Glen Innes and Inverell are a great place to chase sapphires. While our sapphire mining days are some way behind us now, we have lots of fossicking customers and love to hear about their finds.
Many of our visitors are experienced fossickers who know what they are looking for. However, we often get tourists who have not tried this fun activity before and are looking for some guidance on the basics. Note that for our overseas visitors, fossicking is the same as rockhounding. The exact definition of the term is subject to argument, but in our experience, Aussies use the word fossicking to describe the search for gemstones while rockhounding is used more when looking for fossils, mineral specimens and the like.
For those visitors looking for a quick and convenient fossicking activity, we recommend picking up a bag of wash - usually available from the Tourist Info Centres or other local suppliers. Further information on fossicking locations and equipment hire may be found at the Glen Innes or the Inverell tourist information websites.
For those looking to strike out on their own, the following information may be useful:
Fossicking maps for the region are available here:
No licence is required to fossick for gems in NSW – people simply need consent from the landholder and are required to follow some simple rules (see more on this here). Most fossickers will work in a sapphire bearing creek as the alluvial sapphire is the easiest to access. In contrast, commercial miners are not allowed to work within a watercourse and are usually working wash layers which are at some depth (not easy for the casual fossicker to dig down to).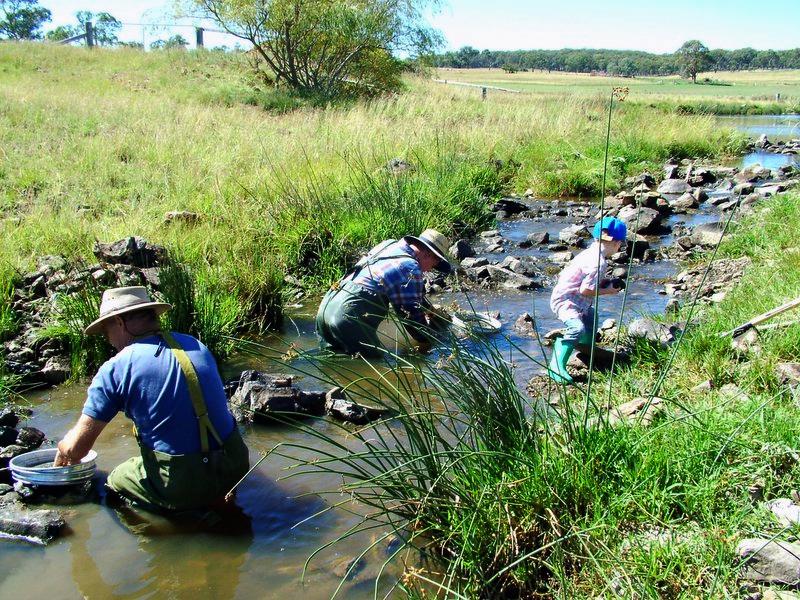 There is great variation in wash type – you may be digging in heavy black clay or sandy soils. When digging for sapphire bearing gravel (or "wash"), the presence of black spinel (often called "black jack") or of common corundum in the concentrate is a good indicator that sapphire may also be present. Sapphire may be found in a wide range of colours including blue, green, yellow and gold, and combinations known as "parti-colours" so don't just look for the blue ones.
The recommended method of finding sapphire in the New England area is to use 2 sieves with contrasting mesh size. You will also need a shovel and a bucket. We recommend that you wear old clothes for this activity as it can be muddy and dirty. Many of these areas are some distance from town so take along plenty of water and wear sunscreen and a hat. Often these locations are excellent spots for a picnic – no need to spend all your time on the end of a shovel!
Place your sieves one on top of the other and fill your top (coarse) screen with wash, submerge below water and shake in a circular motion. A slight up and down movement will help to suspend the gravel in the water and release the smaller and finer stones. When washing is complete, remove top screen and rake through it with your fingers, looking for gems of a 'glassy' appearance or stones of interesting colours. Next inspect the bottom screen (fine) and wash again to dissolve the clay.
The next step is to pulsate the fine material in the bottom sieve. Shake vigorously up and down while periodically turning the sieve partway so that the gravel is concentrating evenly in the centre of the sieve. You are aiming for the heavy gems to sink to the bottom of the sieve and concentrate in the middle section. Take the screen to a clean, flat area for inspection (many use a hessian bag) and flip the screen over towards you landing it squarely upside-down. If centred correctly, the gemstones will be in the centre and on top.
Inspect the pile of gravel carefully and pick out anything of interest – some tweezers will help with this job and a small container is handy to store your gems. Remember that sapphires often are not very spectacular in their natural state – pick up anything with a slightly glossy appeareance even if the colour is quite dark. Hold the stone up to the sunlight – if it is transparent or translucent, it is most likely a gem of some kind.
There are a whole bunch of useful videos out there showing you the method - here is one by a friend of ours just to get you started.
Fossicking in the New England area will yield a wonderful range of gems. While most are looking for sapphire, other possible finds include zircon, black spinel, garnet, varieties of quartz, topaz and tourmaline. Zircon is associated with sapphire in most areas and range in colour from clear, yellow, honey brown to rich red and orange hues. Black spinel is another gem commonly found with sapphire and is an opaque black mineral with excellent properties as a cut gem.
Hope this information is of some help to those considering fossicking for their own sapphires.
If you need to gear up for a fossicking trip, check out our range of equipment here.
What to do with your find will be the subject of a future article.
cheers for now from Aussie Sapphire